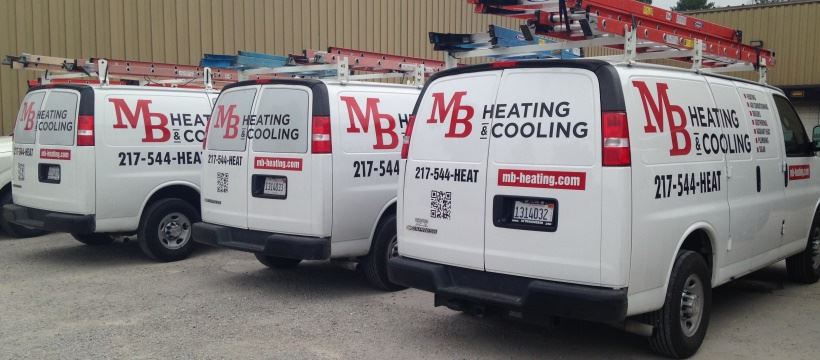 You want to live in a home that responds to your needs.
You want energy-efficient HVAC, plumbing, and electrical systems that will instantly activate when you need a little warmth, some hot water, or more power. You want to incorporate green technology into your lifestyle, from Smart Thermostats to solar paneling.
Most of all, you want to work with a trustworthy company to help you achieve these goals.
Welcome to the hometown team.
MB Heating & Cooling is a local company that works extra hard every day to earn your business. We opened our doors in 1986 to establish a business that can help you out with all your home improvement projects. Our NATE-certified technicians go home to the very neighborhoods they service, so you can bet they take a lot of pride in their work!
We provide whole-house solutions to residential and commercial clients in the greater Central Illinois area and surrounding communities, specializing in plumbing, electric, and HVAC projects, large and small.
Whether you need us to upgrade the power in your historic home or swap out the old water heater, MB Heating & Cooling is here to help!
Here's What We Can Promise
We will get the job done right the first time—or we make it right at no cost to you. We take complete ownership of our work. We always strive for the finest craftsmanship on every project so that you can enjoy the results for years to come. Quality always wins when you work with our team.
It always starts with your indoor air quality (IAQ).  We understand the critical role your air quality plays in your comfort and health. We offer a lineup of products and services designed to make you more comfortable every time you walk into your home.
We pride ourselves on being installation leaders in the greater Springfield area. We do all the necessary measurements and calculations to ensure the plumbing, electric, and HVAC system in your home operates at optimal efficiency throughout the year.
When something breaks inside your home, it can quickly turn into a stressful experience. At MB Heating & Cooling, we will outline the issues and all your options so you can make the best decisions for yourself and your loved ones. We remove the stress by eliminating all the uncertainty from the job.
We are a licensed, bonded, and insured company with an A+ rating from the Better Business Bureau (BBB). We do things the right way.
We offer 24/7 emergency repairs and will do everything possible to accommodate your needs.
Trust and transparency drive our company. We offer free consultations, upfront pricing, extended warranties, service plans, and competitive financing options. Read our five-star Google reviews to see what your friends and neighbors have to say about our business!
Meet the Team
The professional men and women who serve on our NATE-certified team at MB Heating & Cooling enjoy solving problems and helping others. Character means everything to us.
Our philosophy is to hire the very best people and put them in a position to provide for their families and succeed in life. To work here, you need to be at the top of your game. Not only do you need to possess the technical skills and training to do this job right, but you also need the right attitude and listening skills.
We invest heavily in training. Our state-of-the-art training center at our main facility allows our team to tear apart and reassemble furnaces, air conditioners, water heaters, and other equipment. Unsurpassed training is a critical element to our success.
We always find ways to support the local sports teams, our schools, and charities. We believe in giving back to the many clients who trust us with their health, safety, and comfort.
Welcome to MB Heating & Cooling. We're Here to Help!
Give us a call today to learn more about our services and products and how we can help bring your projects and ideas to life. At MB Heating and Cooling, we add value to your home and comfort to your day.